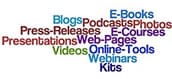 Get sick of hearing all the things you 'should' be doing in business today? It's a pretty big list, am I right? You know you should be blogging, even though you don't really see how it matters. You know social media is working for other businesses, but YOUR customers don't use social media – and they wouldn't look for you there. 
Plus, you'd have to have a few more conversations than you're already having … sounds like time you just don't have.
And if you did put yourself out there with a blog and social media, people could leave awful comments and that would be a DISASTER. Not worth the risk, for sure. After all, it's just a fad and will be going away as soon as everyone knows what a stupid waste of time it is.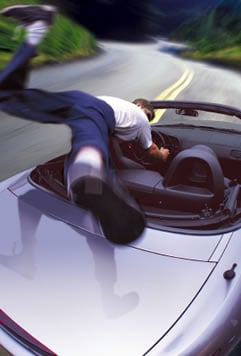 Listen, there's risk involved with every decision you make.
You might write or say the wrong thing – badly
Someone might get irritated at your perspective or stance
And yes, you might be subject to an Internet attack.
As a matter of fact, all those things will probably happen to you at least once moving forward – and more than likely will happen quite a few more times!
And the more it does, the better you'll become. Because that's what it takes to become amazing.
It was pretty risky for Henry Ford to build a business during the Great Depression. I bet he screwed some stuff up along the way, too.
And by the way, how would you grade American Airlines performance last year? They're a mega-corporation, and they still have kinks to iron out. They kept going, didn't they? And they're on target to release big news soon, but nobody said anything good about them last year!
Guess where Ford and American Airlines have invested a bunch of time? Social media branding and customer service. And it's free, guys. Your small, local business can learn to use free tools available right now to build recognition, referrals and communication into your brand – just like the big dogs.
If you're just getting used to the idea that maybe you need to use these tools, here are my suggestions:
Sign up for the Inside Line on Getting More Business Newsletter (Above) and download your 2013 Marketing Action Planner. Listen to the video to understand how to use it effectively. Leave me your questions or comments below.
Pick ONE social media location to learn, and give yourself a 20-30 minute limit EVERY day until you're comfortable with having conversations there. Do it at the same time each day. Be consistent.
During your 20-30 minute window, explore the blog links being shared on social media. Read some of them, and be bold enough to leave your comments.
In a couple of weeks, you'll be telling everyone else what you've been learning! Guys, mindset is everything. See, the thing is, as long as you're not really connected to anything online, it will be hard to put a value on it. But when you connect with others by being truly interested in someone else or their opinions and insights, well .. isn't that what we're supposed to be doing after all? So in a totally unexpected way, you get this amazing opportunity to think about someone else, and open up a new avenue to bless someone by responding to them. Your diligence in this area will result in the traffic you've been wanting for your website all along.
I bet that works for your business after all. What are you setting your mind to learn this year? Leave me your comments below.