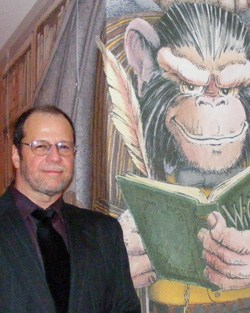 Custom illustration and graphic design set your marketing piece apart from all the others.
At Zero To Sixty Marketing, we know that words sell … but it's graphic design that gets the words noticed.
I'm Scott Alberts, a member of the design team here, and owner of Alberts Illustration & Design in Appleton, Wisconsin.
I work with businesses and individuals across the US on projects ranging from commissioned portraits to branding to website design. I'm a versatile artist, working in nearly any style and medium, from cartoons to digital creations to photo-realism. A realist at heart, I love to depict even the most fanciful subjects in believable form.
Originally from Ohio, I graduated with a BFA from Columbus College of Art & Design, majoring in Illustration. As a Commercial Artist with a Fine Arts background, I've worked in silkscreening, newspaper and magazine publishing, and printing.
I'm also a drummer and an enthusiast of R&B and Jazz. I play with the Fox Cities Swing Band.
Let's talk about your next creative project, ideas you have for your website, your logo, signage, or marketing collateral. We look forward to working with you!