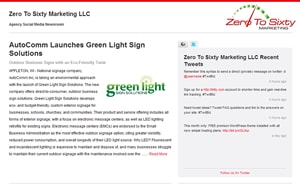 We've just begun using a terrific social media release service in lieu of the traditional press release submitted via wire service. If you haven't yet tried PitchEngine, you really should. News submitted through PitchEngine can be accompanied by multiple images, video, audio, resource links, and a 'tweet pitch' (your message in 115 characters or less). At the $29 pay-per-pitch level, it's submitted to the major search engines and hosted forever on the site. For what you get, it's a steal!
The strength and power of a social media release is its 'sharability.' So what do you do after the pitch to facilitate sharing and really get the word out about your company's news? 
11 Tips to Get the Most From Your Next Social Media Release
Make sure to use the 'tweet pitch' feature. Don't just rush by this item. Give it some thought. Make your tweet conversational and engaging – and be sure to tweet it out yourself right away.
Create three to five additional tweets with links back to the release, and schedule them to go out over the course of the next week or so.
If your employees are part of your Twitter team, they should also share the release in the same manner. That doesn't mean for everyone to say the exact same thing though. Personalize the message per Twitter account.
Share it on Facebook – on your business page, and if appropriate, also on your personal profile. Again, keep it personal in tone, especially on your profile page. Ask your staff to comment or at least 'like' your shared link on your business page, but to do so themselves, not as page admins.
Share it on LinkedIn. If all of your staff share the same basic contacts, one person sharing it may be sufficient. If there's a great deal of diversity, ask everyone to share it.
Monitor the response. Set up Google alerts and Social Mention alerts on your company name, product or service, and the names you use in your social profiles.
Engage: As you receive comments or alerts that your company, product, or release is being mentioned, respond. This lets your followers know you're real and you're listening.
Share the link to your release with other bloggers as appropriate. For instance, if your release is about a new restaurant in town, find local bloggers and let them know about it. Better yet, local or regional foodie bloggers!
Share it on forums. If you regularly participate in industry forums, share your release with your online peers. It never fails to amaze me – how many of our clicks come from forums.
Share it on Reddit and other social sharing sites as appropriate.
Bookmark your release on Delicious and other social bookmarking sites.
Your turn: What are your best tips for after the pitch?