When I was first contracted to create a logo design for Via-Cell, their idea was a genie, possibly emerging from a lamp, holding coffee, food, and other goodies that can be ordered "via" their "cell-" phone and web-based system. I went to work sketching what I hoped would become the next Chester Cheetah, Tony Tiger or Michelin Man.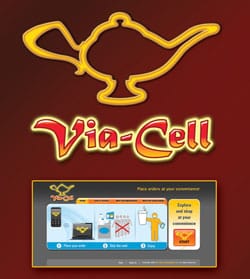 Unfortunately, a lot of the logo design process consists of sketching out what DOESN'T work. In this case, the primary use of the Via-Cell mark would be tiny, used on app button-sized and even smaller icons, including bookmark icons and buttons within their own application.  We had to whittle away the details and – despite my Illustration-loving ways – to arrive at a simple, recognizable Icon that would still embody their brand: a Magic Lamp that brings your wishes with a touch. (Their marketing tag-line at the start was even, "Your Mobile Bazaar.")
Their web site went online recently, and they hope to expand rapidly beyond their Woodside, CA neighborhood. The system utilizes no special software or dedicated equipment and works entirely through the internet.
A recent article in Website Magazine cautions e-commerce entrepreneurs: "Keep Your Graphic Designer on a Short Leash." Ouch! It wasn't a case of reigning in their renegade Artist, it was an experience we shared as we zeroed in on the brand and its end-use. Note that the Via-Cell Site is also designed to communicate the process at a glance, without reliance on text or even English-language proficiency). Point-of-sales pieces for merchant use are being developed with the same quick, visual message.
Well, at least Via-Cell has plenty of  ideas ready at hand should they decide to develop a Mascot or "The Animated Series."  K.I.S.S.: Keep It Simple, Scott!
If you're interested in more articles like the one referenced above, consider signing up for your own copy at Website Magazine, and see what industry professionals are talking about.