We've traveled about 10,000 miles in 2015, exhibited at nine events, and met with 31 retail hobby store owners. It's been an interesting year, to say the very least. We've had the opportunity to interact with manufacturers, retailers, and the consumers who purchase their products. Working all sides of this industry has given us a rather unique perspective into what's working, what's not, and why.
Here's what we learned about event marketing in 2015. No matter what industry you're in, you're sure to find a few useful tidbits.
The expected 'gate' of an event is not a good indicator of sales, but high sales are also not necessarily the only indicator of a successful event. Also consider how many people were introduced to your business or your product for the first time, and how many people now know about your warranty, your customer service, your entire product line as a result of visiting your booth. And remember that the expected 'gate' of an event is a body count, not a market count. How many of the people who will walk through that door would you consider to be part of your market audience?
The enthusiasm of the vendor is contagious, and engagement with each person who visits your booth opens the door to multiple sales.
You can't sell what you don't display. Seems obvious, right? But, keep your visible inventory limited. The illusion of scarcity creates a sense of urgency, and many times that moves the buyer to purchase now, rather than later.
Bring plenty of change for cash transactions AND be prepared to receive credit card transactions. There will be buyers that only use cash, few will have exact change, and other buyers that will only purchase if you accept plastic.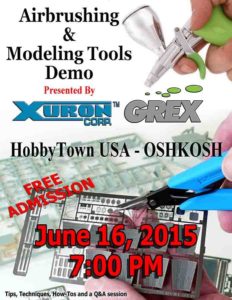 Bring props that are appropriate for your market. My husband and I are brand ambassadors, so that means bringing appropriate props for a variety of markets, depending on the venue. These might be parts for model railroading, plastic scale models, miniatures, or even taxidermy.
Know your products. A good display and enthusiasm go a long way, but a good understanding of your products means you can solve problems, make recommendations, and most importantly, educate the consumer before and after the sale.
Expect curious children and treat them with respect, but also supervise. In our case, young children and sharp tools and/or airbrushes don't mix without close adult supervision. At the same time, we want to encourage a child's curiosity and creativity, if for no other reason than to nurture a potential hobbyist as he/she grows up.
If you have two comparable products, display them side-by-side, and demonstrate the differences. Those shoppers looking for a lower price point item will focus on the savings of purchasing the lower priced product, and those looking for the best will focus on the higher priced item. Both buyers are satisfied and more sales will result.
What we've learned from the stores we've called on –
The passion/enthusiasm of the store owner is a big indicator of the success of the store. We've been in large stores that are struggling and small stores that are packed with customers. It's not the size of the store though, but the attitude of the store owner that makes all the difference. You can feel it when you talk with them and their enthusiasm is contagious. They inspire their staff and their customers. Their store is the hub of a small community of hobbyists.
Product placement is so important. Customers will never see a product on display at just above floor level. We found a product that was so old it had been out of production for over 20 years at one store we visited, on the lowest level of a spinner rack that was sitting on the floor. Which brings me to the next point:
Dead inventory is costly! Not only have you paid for an item that hasn't sold, but you've not replaced it with current inventory that would sell in greater quantities and at higher margins. There is a time and place for 'blowout' pricing to move slow inventory. The same store mentioned above had yellowed (from age) art pads, piles of dusty books, and staff that was not permitted or empowered to make any decisions regarding inventory or sales.
Just as with events, an opportunity for the consumer to demo products is an opportunity for a sale. This can take the form of a demo area at a staffed counter with a trained associate, or setting aside certain days of the year for in-store product demos. Higher end products are best sold by getting the product into the hands of the consumer.
What we've learned from working with manufacturers –
Products can be produced, advertised, and in-demand by the end consumer, but sometimes there's a bottleneck that the manufacturer isn't aware of. A bottleneck in the distribution pipeline for one of our clients became apparent after only a few visits with retailers. This manufacturer only sells through distributors. We had to bridge the gap between manufacturer and retailer to identify the problem. Once identified, the process to solve it could begin.
Manufacturers need feedback from distributors, retailers, and the end consumer. It's the basis for development of new products and improvement of sales of existing inventory.
Our 2016 travel schedule looks like it will be every bit as busy and as many miles traveled as we did in 2015. Our goal this year is to diversify into even more markets. In addition to scale modeling and model railroading events, you might find us at high-end auto auctions, gaming conventions, taxidermy conventions and/or cake decorating events. We will continue to call on retailers, but again, spread the net wider and diversify by working with additional manufacturers and new markets. I'm very excited about what our marketing insights will be by the end of the year!
This article was written by me and originally featured in The OffBeat Business Magazine January 2016 issue. It's one of many useful articles by a variety of business owners and authors. I highly recommend that you check it out for yourself, today!