MerchantCircle Helps Local Business
Play Now
|
Play in Popup
|
Download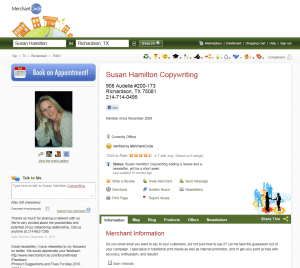 There are a lot of ways to develop healthy back links to your business website. MerchantCircle is on our short list because it really does a great job gaining exposure for local business.  
This is no stagnant listing, as most are. The more active you are at building connections and adding blogs and newsletters, the more local exposure you gain. The MerchantCircle Newsletter goes out to every business listed in the directory, regardless of whether or not you've written a blog post or newsletter. But if you do want the areas and cities you've chosen to hear about your company, all you need to do is post a short blog, newsletter – or even answer a question – to be circulated among your neighboring businesses at no charge!
If you budget an hour a month you'll be able to see big advantages to this directory.
Newsletters
A newsletter through MerchantCircle goes further than their blog post option. It actually goes out to all email addresses you want to import, as well as to the business connections you make when you use their 'connections' option. It also goes to every business MerchantCircle sends to in the areas and cities you've chosen. You can set the publish time and even review it before you send. I've found they actually send it more than once.
Why I don't use this as my primary account:
This isn't the most professionally crafted newsletter, and often the edits I've made before publishing don't take. Also, I find images are hard to add correctly. The preview usually doesn't appear as expected, so as a professional writer, it's not the best place for me to showcase my work. I truly believe ANY OTHER business could use this more often effectively.
Blogs
When you blog through the directory, the MerchantCircle Newsletter will announce that your business recently blogged and share the title with their recipients. It's smart to link to your business website from here, the authority link is great.
Why I don't use this often:
Once again, as a professional writer, I have enough to keep up with! Every once and awhile I do post to my local business account, SusanHamiltonCopywriting.com, but image issues and spacing bug me. It simply takes too long for me to keep up this platform as my sole broadcast, and I have no time to deal with those issues when I can use higher quality services for that.
I don't recommend this as any company's sole blogging platform, but it is definitely worth using to discuss local recommendations, promotions, and seasonal discounts or coupons. The information will definitely be circulated through their newsletter and benefit your website.
Connections
Connections are a brilliant way to share B2B information and get other companies to frequent your main business website/blog. You become interesting when you're actively sharing your perspectives throughout their newsletter and blog services, and other companies tend to want to know more about you. Also, they're more likely to comment on your material and that interaction is pure gold. You get notifications through your email when others want to connect with you, making it very easy to stay involved. I love this feature!
Questions
I give this both a thumbs up and a thumbs down. I see where this is great for local business; I even see where I could use it better. But I've also seen really bad recommendations written poorly in response to questions. The answer box can go as long as you need it to, but there isn't any HTML so even if you think you have paragraphs and links in your answer, you may not. The whole thing can look like a big, unreadable paragraph.
My advice:
Use with caution. Keep answers as tidy as possible, and use sparingly.
Reviews
I suggest taking advantage of the review option. Review other companies, and accurately share your MerchantCircle business listing URL in follow up emails after a sale or service appointment to encourage reviews of your company. Actively ask for these reviews, they weigh heavy and will benefit your reputation for a long time. Bad reviews happen once and awhile, and if you can't find a solution for an unhappy customer, know that more good reviews push the bad one down the page. Encourage happy people to post reviews for the most benefit from this feature. Ask after a sale, and then send a request link in a follow up email for best results.
MerchantCircle Listing Services
Local listing services mass upload your company information to many locations, but the listings are often inaccurate due to different criteria requirements between directories, and one solution just can't do it all well.
We suggest you do it yourself, and we developed a series of video tutorials that will help you understand what not to miss as you fill out your information.
Sign up to learn how to pace yourself at one per week and get it done right, for free! I'll show you common mistakes so you can avoid them, and with regular progress, you'll see how to realistically improve your search engine authority over the course of a year.
Sign up today!