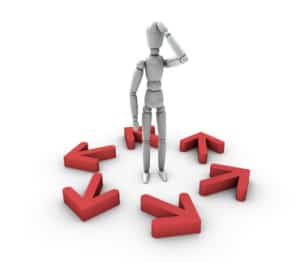 Ever feel like there's so much to do that you can't do anything at all? Overwhelm puts a weight on your chest, and it can be really hard to get over. This is NO time to let that feeling take over, you've got some work to do if you're going to let people know you're BEST at what you do!
Thing is, one of the biggest mistakes you can make in business is to FAIL at planning.
The second biggest mistake you can make is to fail to deliver on your plans.
But it's easy to do, and when you falter and him-haw about it, it only gets worse. And everybody goes through that. EVERYBODY. If planning and implementation were easy to do, there would be a lot more successful businesses out there.
The truth is, PEOPLE fail – waaay before companies do.
Learning how to plan effectively, and then follow through on those plans, is what separates the apples in the barrel.
You have to be clearly separated from everyone else in your line of work. You have to be better, look like you are better, and deliver better than your competition so they can cease being competition and begin to look more like all the other apples.
Are you ready to quit messing around with business, and get down to it? Then you're already ahead of most people.
Do you know what separates your business from others just like yours online? Do you know what it takes to convince a visitor to your website to call you to do business with you?
According to Google, Zero To Sixty Marketing, and any marketer worth their salt – it's your page copy and your BLOG. Your blog gives visitors a chance to hear what you think about what they want to talk to you about before they ever call.
If you look at your competitors and they're NOT blogging, you can totally kick their  ***  with a great blog! If you look at your competitors and they ARE blogging – and you're NOT – you'd better get busy.
WHY does blogging for your business matter? Because it's interesting fresh content people can share. And they love to share. And if you're set up correctly, they're sharing your posts easily on Facebook, Twitter, LinkedIn, and more.
Planning is everything or you'll never do it.
Here's what I want you to do:
Look at your whole year and determine your most important message.
Break it down to quarterly themes.
Give each quarterly theme three specific messages and assign them to a month.
Take each monthly message and think of one or two things that could be said in a couple of paragraphs that help your reader solve a problem and look at YOU to give them REAL solutions.
That, my friends, is an editorial calendar. You can use Google Calendar to share the messages with your team, and knock this blogging thing out. Now go to ZTSM Academy to learn how to make blogging a cornerstone to your staff training, lead generation, and brand recognition to build a legacy company that blows your competition right out of the water.
Here's to a good plan.