Paperfest's 6th Annual Tour de Fest bike tour is just around the corner. Have you signed up? If biking 18 – 100 miles, beginning at Kimberly, Wisconsin's Sunset Beach is your idea of an awesome work out, then this tour is for you. There are four different routes to choose from: 18,40,70 or 100 miles. And when you're done, you and your family can enjoy the Paperfest Festival at Sunset Park. There will even be a shuttle to take you to showers when you're finished, so there's no need to be self conscious about relaxing with them when you get back.
IF you get back …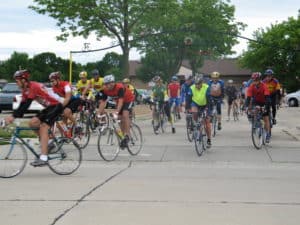 No worries! Rest stops will be available along the way, offering food, drink and restrooms. If you do experience any mechanical or physical trouble, SAG wagons will be patrolling nearby to rescue you safely out of harm's way.
Early registration has begun, and lasts until July 4. Race participation costs increase by $5.00 if you delay sign up till then.
So, why are we biking?
Proceeds from Tour de Fest pledges, jersey and t-shirt sales benefit The Leukemia & Lymphoma Society, the world's largest voluntary health organization dedicated to curing leukemia, lymphoma, Hodgkin's disease, and myeloma, and improving the quality of life of patients and their families.
Zero To Sixty Marketing LLC is the official Web site sponsor for Paperfest's Tour de Fest annual bike tour, and would like to encourage your participation. Rain or shine, this event is a can't miss for avid bike riders across the region – sign up today!