By now you've heard that blogging can help your business. Did you know that your blog content is actually valuable?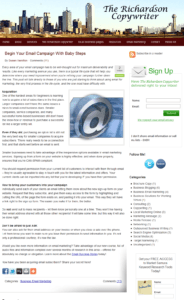 That's right.
When you post important material on your blog on a regular basis, you build up a valuable archive that will serve you for a very long time.
Blog content is advertising, only it's not the ad in the newspaper or in a circular. It's more of a soft-sell, and has enormous potential IF you embrace the system. Everything that you write about your industry, field or niche exposes your understanding of it.
What do most consumers do before they decide to part with their hard-earned money? They take a spin around the Internet.
The determining factor that turns a visitor into a paying customer is NOT your contact page. First, they want to know if you're the company they need or want.  
The crazy part is that telling them more about your company won't convince them to buy from you. They'll part with their money when:
They trust you because
they've become familiar with you.
They'll become familiar with you through
the return trips they'll make to your website.
It could take several interactions before that happens.
How do you get your visitors to come back?
Post information that they need to know. Be your customer when you write.
Incite an interest that they'll want to return to.
Cause them to want to leave a message in your comments, or
Share your material with their friends and colleagues using social media buttons.
A business blog plays a valuable role within your online marketing efforts. Used correctly, it will impact your search engine optimization as well as add credibility to your business. Every little bit helps when you want your business to be found online.
Do you blog for your business? When you leave us a comment, your last post will be seen by our visitors because we use CommentLuv to share your link.