Just when you think your great new website will help customers find your company, you learn there's more to do to keep it in front of people. New websites have to get a lot on the ball quick. It doesn't seem fair, does it? But you really have no choice on this one, folks, you have to take steps in the right direction regularly or all you have is a pretty, unseen, and virtually unusable website.
I want to spend a little time explaining links, why different links matter, and why you need a healthy mix of them all for maximum benefit. Links show the relationship between your reader's interests and your website information.

When you have a well-linked business website, you show that your interest is in your visitor's experience, that you're a resource for them. When your visitors follow links, they agree with you. Last year, Google made changes concerning 'content relevance.' The more easily your visitor browses page to page, following those links in and out of your website, the more authority your website is given because they believe your content is then more relevant. Links weigh in heavily when Google decides who gets top billing, so learn everything you can about how to use them wisely.
Internal Links
Internal links take a reader from one page of your website to another. Done properly, they add value to your reader's experience because the information on each page adds to the information on the other. Each of your pages should contain some common reason a reader might want to look farther into your website, and a link helps make that easy for them. Make it even easier when you link actual words used in the course of an explanation. For example:
Instead of writing, Click here for more information on your business website page,
An Inside Line reader will be invited to learn more about website marketing strategies.
Additionally, each page of your website should be easily accessed by your visitor from every page, unless you have areas available by subscription only.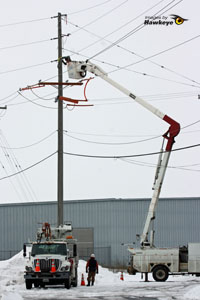 From every page, your visitor should be able to get to:
Navigation bar
Blog post links to landing pages
Blog post links to other blog posts, and your
Contact page
External Links
External links are also valuable, adding credibility to your site. Offer additional detail about your product or service through a link to a higher authority website to become a resource for your reader.
For instance, links to .gov or .edu sites are generally accepted to be trusted resources. If you write about things that can be backed up by information found on a page of a .gov or .edu site, your link to that additional information helps your reader. If you operate a plumbing business, link to a water conservation site. If you own a HVAC company, a link to a page of product information from the brands you carry will also be helpful.
Visitors will be more likely to follow that link, and also more likely to link to your page when it's a handy reference. Your material becomes more shareable, increasing your website's value.
Back Links
Back links weigh the heaviest, but building them takes the longest time and most strategic effort. Back links are links that exist in other locations that connect to your website. The sites linking to yours should also come from a healthy mix of locations that vary in authority.
Because of their importance, there are many shady ways to build these. If you use a WordPress website, you notice in your comment dashboard all the totally freaky, terrible ways this is done stemming from all over the globe. Don't think to yourself, "Oh, that's how you do it," you'll be wrong. Shari wrote about this in her post, How To Recognize Comment Spam, and I showed a good example in my post, Your SEO Company Can Actually Hurt Your Business.
Building back links correctly starts with being absolutely certain that you offer information others need or want. That means good website copywriting, and posts about things that matter to your client base.
The best ways to take advantage of the web are through listing your company in high authority directories. Every company has a 'Top 5' directories list their industry typically does well being listed in. A correctly-filled-out profile with an accurate website link will benefit a company three ways:
Directories are always listed first in search results so your company is easily found by consumers, and
Your company's link carries the authority from the directory, improving your overall rank, and
The best directories give your clients and customers an opportunity to review your company publicly and then share it with their social media contacts. (Super important to Google right now.)
I can't stress enough how important this is to do.
Additionally, back links can be accumulated when you spend time reading other blogs and commenting on them.
They can be built using a good 2.0 strategy. (Ask me about this.)
They're also built every time you use your website link in a social media profile, usually regardless of whether or not you communicate there. (NOT suggesting to NOT communicate.)
They can be built using article marketing, and
Press releases
Get started when you leave me your comments below! We use the CommentLuv plugin to help our readers get exposure for their websites – go ahead, try it out.