Simplified Copy Helps Customers
Play Now
|
Play in Popup
|
Download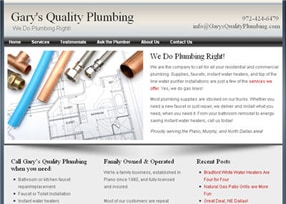 Case Study Shows Improved Conversions With Web Page Copy Makeovers
When Gary's Quality Plumbing came to us for help with their website, they were having difficulty getting customers to find them online, and had been told their web pages needed work.
As a small, Mom and Pop family business, they felt their copy accurately reflected what their customers needed to know about their friendly, local residential plumbing services. They had written it themselves using a template guide, and while they knew it could probably be improved, weren't convinced that much had to be done. They were happy with their website, but unsure how it was more than a reference tool for customers who had found them through word of mouth referral or Yellow Pages listing. They typically took the calls from prospects, and then directed them to their website address.
Zero To Sixty Marketing found several areas of concern, common to many businesses.
The pages were actually all one page, regardless of which tab was used. To get to other pages, their tabs were actually just scrolling to the 'new page' instead of really opening up another page. This was hurting their ability to be indexed, because one-page sites are not considered 'websites' by Google and other search engine criteria.
No extended service areas were used.
The web page language (copy) had no emphasis on what a consumer would naturally be searching for.
The copy showcased their company and brands they offered without considering why those things would matter to a consumer.
The calls to action needed more direction.
The language used in their page copy was the language their plumbers used to describe a situation or that they all would use in their day-to-day affairs, often over the head of a consumer with a problem.
No links were coming into their website.
There was no way to regularly update the site.
These issues are typical when a company wants to improve their online performance, but may not understand what a business website should be able to do for them, namely:
Help their business get easily found.
Attract and capture leads.
Provide information that goes into the decision-making of a consumer when compared against a competitor.
Zero To Sixty Marketing addressed these problems head-on. We rebuilt their website using WordPress as their content management system, giving them the ability to use an interactive blog and build pages that could be easily updated with current information.
We researched keywords and terminology to learn what phrases were already being used by searchers looking for plumbers online. Integrating those words and phrases naturally into their copy, as well as using common consumer language, helped improve their web pages for readability.
Additionally:
'Ask The Plumber' blog was built into the new design for easy updating.
AWeber Email Service was added, with email sign-up forms for lead generation.
New navigation that reflected natural site movement was constructed.
Pages were built reflecting consumer-oriented interests.
New copy throughout brought more personality to the company, and encouraged friendly interactions wherever possible.
Direct calls to action were created that would continue to improve site rank, customer response, and ultimately – conversions.
Social media profiles were built; Facebook and Twitter buttons were added to the sidebar so their content could be easily shared with others.
Over time, Gary's Quality Plumbing has enjoyed higher sales as a result of their website makeover. Their customers tell them they enjoy the 'Ask The Plumber' blog, and often they book several calls in a day from leads from their website. On top of that, their email contact list continues to grow, helping them to target their messages to customer interest, while building relationships with clients that come back to them again and again.
Can these strategies work for your business? Absolutely. Your website is your most valuable tool, use it wisely and see results for your company, too.
Did you know that when you share your comments and suggestions, your latest post gets pulled in with a link? That's because of our CommentLuv plugin. Please, chime in! Have you made web page copy changes recently? Have you noticed results? Tell us about it below.