Twitter has a lot to offer the local business, but it's all about strategy. It took me a couple of years to figure out. Back then, no one really thought about using Twitter in the office interactively. Few are talking about it now.
Let's say you operate a micro-business, maybe one person in the office and a two to five people off-site visiting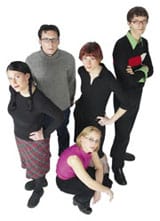 clients. By using Twitter tools like Tweetdeck, Hootsuite and SocialOomph, you can build a network of local followers that are very likely to need your services.
Why Should Your Company do This?
I believe the beauty in what Twitter offers local business is the mobility. You see it every day, people staring down at their phones to text, search or call. To do that effectively requires a compatible phone. Those phones aren't cheap. I think that's a strong argument for segmenting the population right there. First and foremost for most companies is building a client base of customers who can afford their  products or services. Marketing on a mobile platform increases the odds that your message is going out to that base.
Add to that the ability those clients have to tweet to their friends and family about the great company they just hired, and you've again increased your company's validity online.  Read More→